News & Reviews
A beautiful book from the charming world of Gus Gordon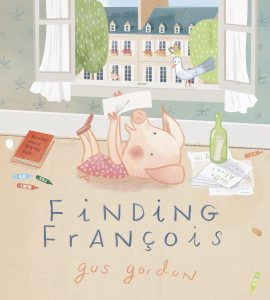 Every so often we come across a picture book that perfectly captures the frailty, wonder and joy of life. For little hearts and minds these books act as an anchor and a beacon, gently imparting wisdom and knowledge that will last a lifetime. Gus Gordon's 'Finding Francois' is one of these special gems.
It is our pleasure to offer our customers the opportunity to preorder a copy of 'Finding Francois' and to have it personally inscribed by the author.
A tender and gently adventuruous gem about the power of friends to soothe aches big and small.
Alice, a little piglet, loves life with her grandmother, making lists and créme brûlée, organizing buttons, and taking walks. Still, Alice wishes she had a sister – or even a brother. So, she does the sensible thing: she writes a note, tucks it in a bottle, and tosses it into the river, where it drifts out to sea, is captured by an octopus, picked up by a seafull, and arrives at a faraway lighthouse. There, François, a little dog, lives with his dad. François is everything Alice could wish for in a friend, and soon the seas are busy with their bottled correspondence. But when a big changes comes, and Alice can't bring herself to write François more letters, will the simple comforts of time, love and friendship restore the light to Alice's life?
PRE-ORDER A COPY NOW
Praise
★ "Gordon's sly humor and understanding of child logic (very reminiscent of William Steig's) shine forth. . . . Elegant language, endearing characters, and irresistible images will warm hearts and minds with each reading." —Kirkus (starred review)
★ "Endearing . . . Expressive . . . The precisely worded text, full of intriguing details, reads aloud beautifully. A heartening, memorable picture book." —Booklist (starred review)
"Triumphant . . . Leavened throughout with gentle, tongue-in-cheek humor [amid a] central theme of enduring love." —Publishers Weekly
"Charming . . . [A] soothing, kid-friendly approach to life after loss. . . . This is a warm, gentle story about resilience and how the bonds of friendship can mend the heart." —SLJ
Please leave inscription details in your notes at checkout, or call (02 9973 1244) or email (hello@bookoccino.com.au) with the details.