Podcasts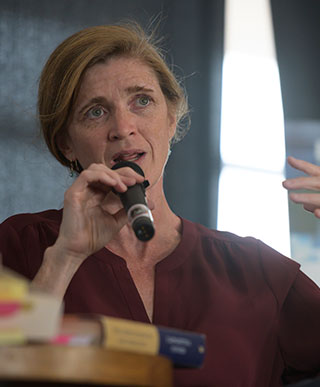 Samantha Power in conversation with Ray Bonner
SAMANTHA POWER, who was President Obama's ambassador to the United Nations, spoke with Ray Bonner in a sold out Bookoccino event.
They first met in Sarajevo during the Balkans war, where the brutality she witnessed first hand, and the long-failure of the West to react, has defined her career, which has seen her rise from sports journalist, to Harvard Law School, to the National Security Council, to the youngest American ambassador to the United Nations. She has recently published a memoir, "The Education of an Idealist" a story of "sorrow, resilience, anger, solidarity, determination, and laughter," as she describes it. It is that and more.
They talked about her illustrious career, how she balanced being a mother of two young children with meetings in the White House, the battles she won and lost, and, of course, the upcoming American presidential election. Samantha has a personal connection to at least three of the Democratic candidates.
Click to hear the full interview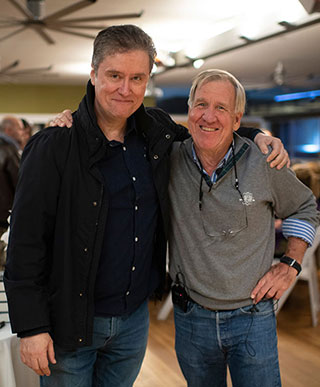 Richard Fidler in "Conversation" with Ray Bonner
Ray was raised in small-town America and moved 'in lockstep' along what he thought was the path to being a good man. He went to law school, then joined the U.S Marines and was sent to the Vietnam War. The war changed Ray's perspective on things and he came back to America to begin a new career as a left-wing lawyer.
Ray was in his 40s when he moved to Bolivia to become a journalist. He then began reporting from some of the world's most dangerous places. He exposed a shocking massacre in Central America, earning him the wrath of a U.S. President.
Ray married fellow foreign correspondent Jane Perlez, and together they were posted to dozens of countries around the world. At one stage, their phone records were spied on by the FBI. Then a few years ago Ray made a decision which saw some of his friends question his sanity.
Interview with Lionel Shriver
Bookoccino welcomed Lionel Shriver, the renowned iconoclast and bestselling author, back to Australian shores on September 1. In this episode, Lionel discusses the furore surrounding her last visit, her views on artistic licence in literature and her concerns about hyperbole and alarmist attitudes with Future Women founder Helen McCabe.