Bookoccino's NSW Election Coverage

In what has widely been seen as a low-key campaign focused on bread and butter issues, the NSW election comes to a close on this Saturday 25th March.
The relative quietness of the campaign doesn't necessarily mean that little is at stake.
The Coalition government is hoping to win a fourth term, something the conservative side of politics hasn't achieved for almost 50 years.
The ALP opposition is looking to finally cast off the pall of scandal which dominated its last period of rule and storm back into the government.
Locally, Liberal Rory Amon is working to succeed the well-regarded retiring member for Pittwater Rob Stokes but is facing a significant challenge from Teal independent Jacquie Scuby. As proved by the success of Dr Sophie Scamps in last year's federal election, normally impregnable safe electorates can be vulnerable to the right independent challenger.
Whatever the outcome this Saturday, Bookoccino's series of Sunday afternoon Election panels provided a community forum for lively discussions and debate.
Our first forum focussed on the issue of integrity with Alexandra Smith of the SMH, Anne Davies of the Guardian and former NLP campaign manager Felix Eldridge. The importance of anti-corruption bodies was agreed upon even as the timelines of their findings were sometimes judged wanting.

A forum on heath followed with contributions from from the innovative youth mental health organisation OneEighty, Pittwater Family Health GP Dr Peter Brennan, Dr Talat Uppal, founder and director of Women's Health Road and moderated by local 'health nut' and TV presenter Amelia Phillips. Particular emphasis was drawn to the shortage of general practitioners and how state payroll tax is especially punishing for GP's operating outside of the larger medical centres.
The next Sunday looked at education with Professor Russell Lansbury, Professor John Buchanan, former Mona Vale Primary Principal Mandy Fisher and SMH Education reporter Christopher Harris. The value of public and private education was weighed, the increasing level of public funding directed to non-government schools questioned, and the real way to value teachers debated.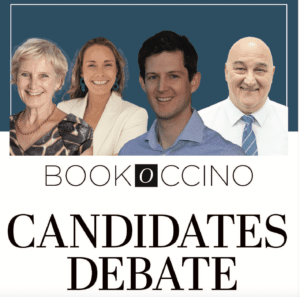 The last Sunday before the election brought the Candidates debate, with Liberal Rory Amon, The Greens' Hilary Green, Independent Jacqui Scruby and Labor's Jeffrey Quinn. It was a fascinating, if sometimes heated (both in terms of tempers and temperatures) debate. Click the following to read the transcript: Bookoccino State Candidates Debate Transcript